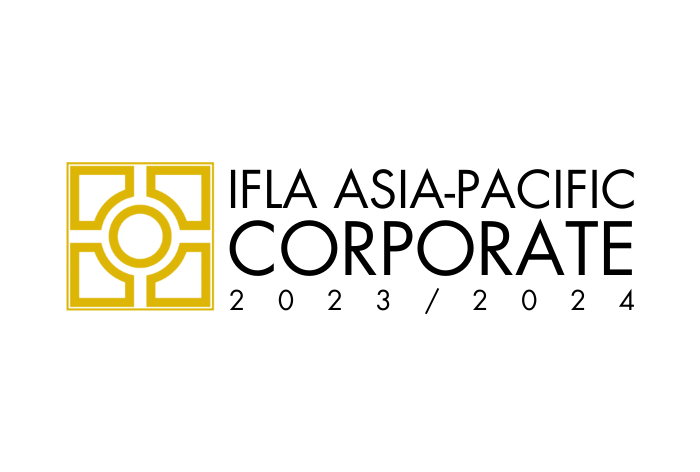 New corporate membership opportunity! Join the IFLA community today.
Introduction
Corporate entities can now become members of the IFLA APR, under the recently approved IFLA APR Constitution. This is a key opportunity to become part of a community of influential organisations and figureheads, within the leading association representing the interests of landscape architects in our region.
It is a significant milestone for the profession, allowing related businesses and organisations to increase their connection and profile within the profession regionally, enabling you to learn, engage, share, develop and grow within the network.
Working with business
The aims of the IFLA Asia Pacific region are to support, inform, educate and provide opportunities to enable built environment and landscape industry businesses to be more closely involved with the profession of landscape architecture. All organisations which are involved in any aspect of landscape design and practice including professional or regulatory compliance, public protection or contribute to economic, environmental, or social well-being are invited to become corporate members. We welcome all businesses from small firms to large national and international enterprises, who have the same alignment and interest as the IFLA APR to contribute to building better and more sustainable environments and liveable cities in the Asia Pacific Region.
Value of membership to your business or organisation
Associates you with Quality Standards in the industry.
Enhances your business connections within the community, enabling you to connect and network.
Raise your profile and promote your company values within the landscape industry and market sectors.
Promote additional levels of client confidence as a supporter of professional practice in landscape architecture.
Participate in IFLA Asia Pacific regional initiatives as an events partner, with priority access to sponsorship and attendance of specific event-related activities.
Use of the IFLA corporate member logo on any materials you use for 12 months. This will elevate your company's standing in the industry and associate you with Quality.
 
Join us today at a special discounted rate starting at just USD $500!
To be considered as an IFLA Asia Pacific region corporate member, the applicant must meet the following criteria listed below:
Any business, company, corporation, educational institution, government entity, or association dealing with the built environment or landscape products or services in the IFLA APR that is aligned with the broad goals of the IFLA APR are eligible to apply.
Anyone interested in becoming a Corporate member must complete an IFLA APR Corporate Membership application form, which can be found here at (link).
Applications will be reviewed for approval by the IFLA APR Council on a case-by-case basis.
Corporate Members are prohibited from marketing or promoting their corporate affiliation membership by using the IFLA or IFLA Asia Pacific Region logo.
 
Fee Structure 2022/2023 (at 50% discount)
The fee for an IFLA Asia Pacific Region Corporate shall be reviewed annually by the Regional Council. 
Terms and Conditions
IFLA APR Corporate Member does not constitute an IFLA or IFLA Asia Pacific Region endorsement of any goods or services.Corporate Members are not eligible for access to other category membership privileges under IFLA APR constitution unless stated otherwise.Corporate Members are not eligible to serve on the IFLA APR Council, nor do they have voting rights.
Corporate Members will receive all IFLA APR mailings and will enjoy the benefits of events partnership subject to the terms and conditions applicable to each event.
---