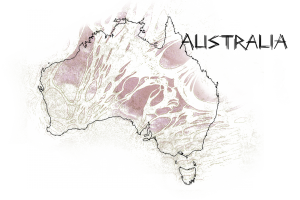 Australian Landscape Institute of Landscape Architects (AILA)
The Australian Institute of Landscape Architects (AILA) leads a dynamic and respected profession: creating great places to support healthy communities and a sustainable planet.
Australia is a vast and ancient continent of diverse natural landscapes. 85% of Australians live in settlements within 50 kilometers of the coast.  Environmental pressures are significant, social issues complex, and questions about the management of balancing the economy with social and environmental issues abound.
In this milieu, landscape architects have a crucial role to plan and design-built settings that sustain human and planetary health.
The Australian Landscape Institute of Landscape Architects (the AILA) was formed in 1966 to support landscape architects in pursuit of their vision of healthy and engaging settlements in equilibrium with the country's natural environment, Aboriginal heritage, and continuous culture, and more recent modified landscapes.
The AILA is the profession's peak body, providing leadership in the education and professional development of its members and raising awareness within the community about issues affecting the state of the Australian landscape and built environment.
The AILA is guided by its strategic plan arranged around five strategic pillars and three strategic values: Connection to Country, Gender Equity, and Climate Positive Design. The plan identifies our direction for the future and can be found HERE
Website Address: www.aila.org.au
Number of Members:
The AILA is a member-based organisation, representing 1650 registered landscape architects and approximately 1000 more students, graduates and other members.  
President: Peta-Maree Ashford
IFLA APR Delegate: Katharina Nieberler Walker
Contact Details:
Australian Institute of Landscape Architects (AILA)
Level 1, The Realm, 18 National Circuit, Barton, ACT 2600
Contact: +61 (02) 6198 3268  
Email: admin@aila.org.au