President's Message: October 2023
The 2023 IFLA-World Congress was being held in two locations, one in Nairobi, Kenya, and the other in Stockholm, Sweden. This decision was made to consider the environmental and geographical distances in Kenya and to experiment with a cross-border physical and online conference, expanding participation from diverse members. At the same time, it aims to demonstrate the equal importance given to the five major regional divisions within the IFLA family.
The IFLA has five major regions - Asia-Pacific Region, Americas Region, Europe Region, Middle East Region, and Africa Region. Currently, the Asia-Pacific, Americas, and Europe regions are experiencing relatively stable growth. However, Europe and the Americas are more mature in terms of professional development. The Middle East and Africa still need to actively strengthen the balanced growth of their member organizations, as well as promote reasonable accreditation and widespread education in their respective education systems.
The conference in Nairobi (September 28-30) is being held simultaneously with Stockholm, combining physical and online sessions. The main theme of this event is "Emergent Interaction," focusing primarily on how to collaborate across disciplines, administrative boundaries, and across public and private sectors and political systems.
Despite being held across two continents, there are over 3,000 participants from more than 100 countries. APR attendees include myself, James Taylor, Chris Tidswell, Alessandro Martinelli, Damian Tang, and Kiyohito Tamotsu, along with members from CHSLA, HKILA, SILA,
NZILA, TALA, and other organizations, making it a vibrant event. The discussions mainly revolve around how global climate change impacts landscape professionals and how they can achieve the most effective collaborative growth in economic, political, educational, and professional cross-border cooperation.
This event also invited relevant UN organizations such as UNESCO, UN-Habitat, ASLA, CELA, WHO-ISUH, and ICOMOS, and signed MOUs to actively promote cross-border understanding between major global professional organizations and IFLA, as well as mechanisms for collaborative work.
The Council and workshops in the three days leading up to the conference have also reached consensus, aiming to promote cross-disciplinary and cross-border cooperation. Promoting a "healthy urban environment" should be a key focus in the future, as it is projected that around 70% of people will be living in urban areas by 2050, and achieving net-zero carbon benchmarks by 2050 must be integrated into the routine design thinking and practical operations of landscape professionals.
APR has also actively communicated with the presidents and representatives of various regions. IFLA EAA chair Alessandro Martinelli has also connected professionals from various countries, hoping that the 2024 Landscape Architecture World Summit in Taiwan can be a successful milestone for more cross-regional cooperation and exchanges.
I attended the 20th Cross-Strait Campus Academic Conference at
Tianjin University in China from October 20th to 22nd, with the theme "Challenge, Reflection, Response: University Campus Driven by Innovation". I also served as the convener for the Rural Revitalization Student Competition for the China Garden Award, continuing my commitment to cross-strait exchange in the field of landscape architecture.
The congress approved the 2025 IFLA World Congress in Paris, the 2026 IFLA World Congress in Hong Kong, and the revision of the APR organizational charter. We will apply for official Non-Profit Company registration as a corporate organization to expand fundraising activities and collaboration between public and private sectors. During the conference, we also met Professor Zheng Jingwen, President of CELA from the United States, who is from Taiwan. She was very enthusiastic about exchanging ideas and looks forward to meeting everyone when she returns to Taiwan.
The new directors of APR have been successfully elected and will be announced after approval at the Tokyo conference in November. We hope that everything will move forward with a more comprehensive, proactive, and positive world view. Looking forward to meeting everyone at the Tokyo conference in November.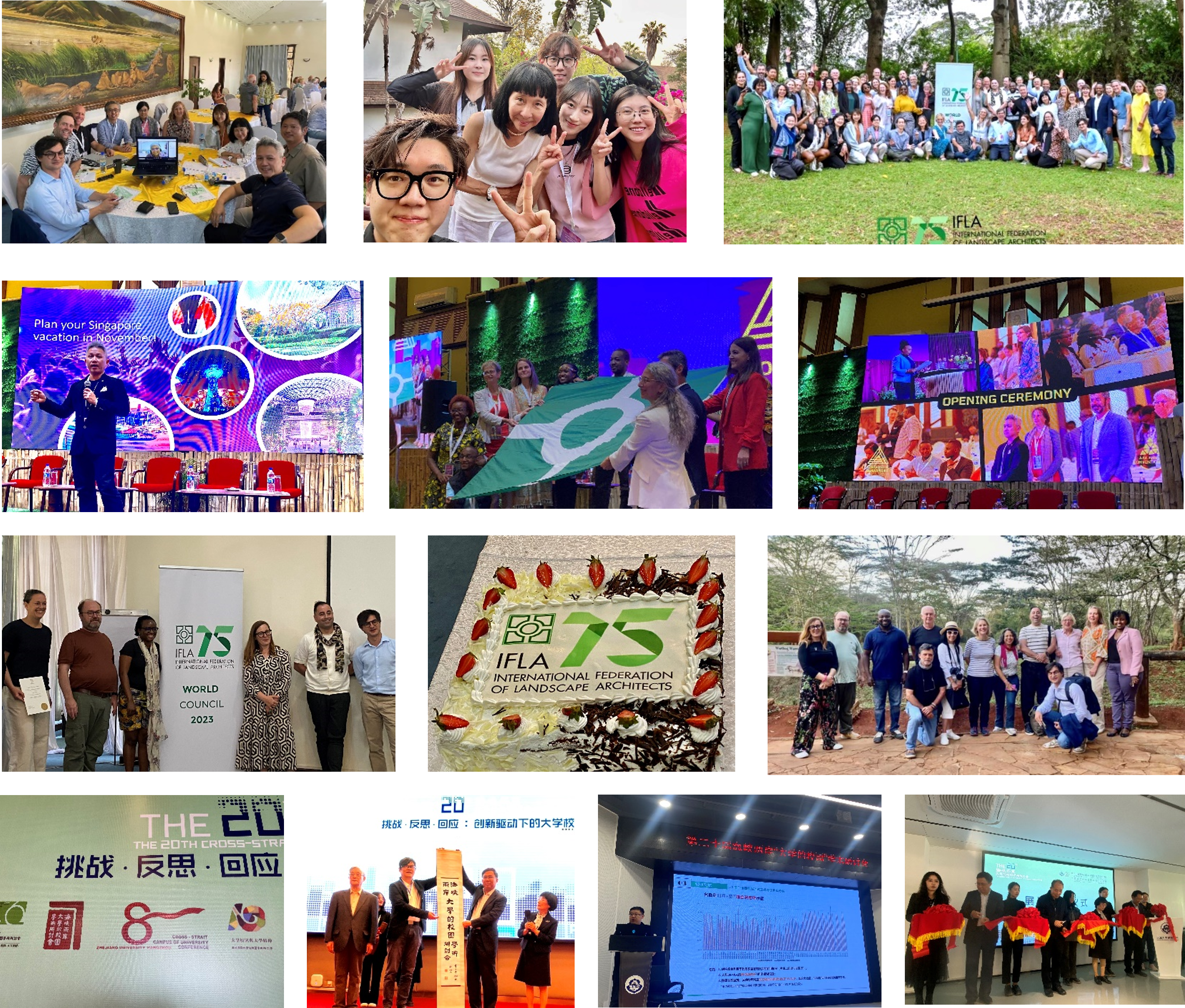 Regards,